KNIVES AND ACCESSORIES
Ashley Machine provides your poultry processing endeavor with the finest implements to get the job done. We only stock quality manufactures such as Chicago Cutlery, Dexter and Wiss. All are well known and highly respected knife and cutlery makers.
Fulfill your operational requirements right here at Ashley Machine.
Dexter

BONING KNIFE
Straight 7/8" Wide Blade
No. 1375 - 5" Carbon Steel Blade, Beech Handle 


Narrow Pattern - Stiff 5/8 Wide Blade 
No. 1375N - 5" Carbon Steel Blade, Beech Handle 
No. 1375NR - 5" Carbon Steel Blade, Rosewood Handle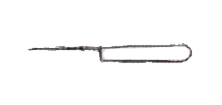 POULTRY STICKER 
No. S128 - 3" Stainless Steel Blade, Plastic Handle


POULTRY PINNER 
No. S130 - 2 1/2" Stainless Steel Blade, Beech Handle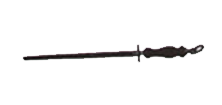 STEEL - Fine Cut - Rosewood Handle - Dexter - Diamond Guard
No. A14R - 14"
STEEL - Polished Hardwood Handle - Dexter - Diamond Guard
No. 1214 - 12"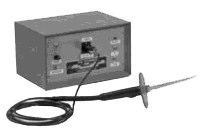 The STUNNER is an electric stunning knife used by custom
processors of birds and small animals during processing.

More Information
STUNNER
Quiets birds of all sizes and all small animals
Cuts bleeding time
Lowers clean-up costs
Helps eliminate down-graded (number 2) birds
Protects you, the operator
SAFE
Insulating shield protects ungloved hands
Specially grounded, shock-proof cord protects the operator
Power reaches blade only when button is pushed
Pilot light on front panel indicates when STUNNER is on
On-Off switch is easy to see and to reach
EFFECTIVE
Handles birds of all sizes and all small animals. Including quail, chickens, turkeys, ducks, geese and rabbits
Subdues fowl, improves bleach of birds
Eliminates down-graded (number 2) birds
No broken wings or bruises
Speeds heart rate for faster and more complete bleeding
LIGHTWIEGHT AND RUGGED
The safety knife weighs just 8 ounces and keeps its edge well because the control switch prevents burning. The sealed-chamber safety switch keeps out moisture, assuring positive operation. A heavy duty cord withstands rough in-plant conditions: and rugged load units resist heat at even the highest power settings. High-temperature, high voltage wiring resists breakdown due to moisture.
EASY TO USE
The STUNNER is easy to operate in any position. You can use your own processing techniques; there is no need to change methods. The Knife and cabinet are easy to clean and the fuse is easy to replace.
STANDARD MODEL G
Four stunning power settings Most of the Safety features of the deluxe model Brushed aluminum panel
GUARANTEE
We guarantee the STUNNER against defects in material and workmanship for ninety (90) days. Should any trouble occur during that time, we will repair or replace the equipment and return it to you.
Chicago Cutlery

VENT BONING KNIFE 
No. CC641 - 3 3/4" Rigid High Carbon Steel Blade, 
Notched, Molded Plastic Handle


BONING KNIFE 
No. CC641 - 5" Rigid High Carbon Steel Blade, 
Notched, Molded Plastic Handle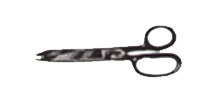 GIZZARD
Wise, No. 1-DS
Clauss, No. 468


HEART & LIVER
Clauss, No. 1328KBR - curved right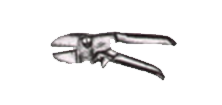 CLIPPERS
Wiss. No. 908


LUNG REMOVERS - Chicken or Turkey

Along with providing you with quality cutlery for your poultry processing needs, Ashley Machine offers Thermometers for ensuring your poultry scalders are at prime temprature.
Wall Thermometer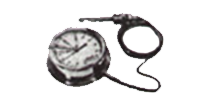 Wall Type Scalding Thermometer 6 - ft. 
Flexible Capillary Tubing. 
Nickel Plated Brass Case, 
3/4" SPT union connection. 
Easy-reading dial 3 1/2" dia.

Pocket Thermometer

TelTru Pocket Type 
0-220 dsg. F., 5" stem 1" dial

Ashley Machine also keeps your Pickers and Gizzard Peelers fresh with replacement fingers and rollers.
Gizzard Peeler

Ashley AK4 Gizzard Peeler and AK4 Peeler Rolls 
are of the highest quality material, insuring 
a long life and maximum efficiency. 
Specifications include spiral length 5 3/8" 
length between bearings 6 3/4" 
diameter of rolls 7/8" and bronze bushings 1/2" I.D.

Fingers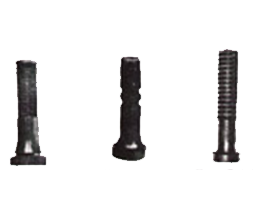 (from left to right) 
Type CP-4,
The CP-4 soft finger has fine ridges, thus giving 
a gentle but thorough picking action. Fits in 3/4" 
hole in drum.

Type A-1,
The A-1 finger has dual picking action. Slight
pressure and coarse ridges give maximum picking speed. 
Less pressure and fine ridges give best possible 
finish. A thorough picking job is assured at all 
scalding temperatures. Fits in 3/4" hole in drum.

Type RK-6,
The RK-6 finger, 5 1/2" over all length, 
fits in 7/8 hole in drum. Used extensively in 
Kosher Pickers and line pickers.

In addition to all of the accessories listed above Ashley Machine also carries both White eviscerating aprons and Black kill aprons.
ASHLEY MODEL AK-4 GIZZARD PEELER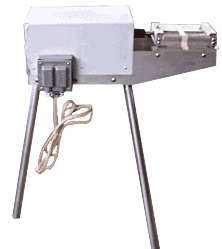 The AK-4 Gizzard Peeler has been proven in the field.  
The highest quality material and the fine workmanship insure 
users of maximum production and long trouble free performance.

More Information

The Ashley AK-4 Peeler Rolls are of the latest design, which insures maximum efficiency and long life.  
Bronze Bearings are used throughout.  There are no gears or pins in the Head Assembly.  
The Head Assembly is equipped with Zerk fittings for lubrication.

SPECIFICATIONS:
| | |
| --- | --- |
| Hardened Stainless Steel Rolls | |
| Spiral length | 5 3/8" |
| Length between bearings | 6 ¼" |
| Diameter of Rolls | 7/8" |
| Bearings 4 each Bronze Bushings | ½" I.D. |
Biro BCC-100 Poultry Cutter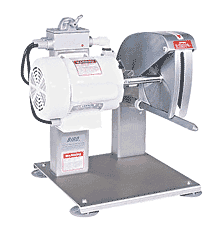 Cut chicken, turkey, duck, fish and rabbit all day with Biro
BCC-100 Poultry cutter. The special 9" cutting blade lets you cut 
pieces accurately while providing minimal tearing of the skin.  
You achieve almost no cutting loss and almost no product shrink.  
Because the blade is designed to slice instead of tear product tissue, 
your shelf life is maximized.

More Information

The ¾ horsepower motor ensures that you have all of the power you need, 
and the machine design lets you cut for maximum productivity.  
The BCC-100 is designed for easy wash down and good sanitation.  
Let hand design machines are available if your product flow requires it. 

Specifications:
| | |
| --- | --- |
| SWITCH | TILT TYPE, ENCLOSED, WATERPROOF |
| INTERLOCK SWITCH | MICRO TYPE, ENCLOSED, WATERPROOF |
| KNIFE BLADE | STAINLESS STEEL, 9" (228 MM) DIAMETER |
| CUTTING GUIDE BAR | APEX TYPE, STAINLESS STEEL, 1" (25 MM) DIAMETER |
| KNIFE GUIDE TROUGH | STAINLESS STEEL, STANDARD |
| CONSTRUCTION | STAINLESS STEEL BASE, COLUMNS, EXTENSION SHAFT |
| | SOME COMPONENTS MAY BE NON-STAINLESS STEEL |
| | MATERIAL |
| COUNTER SPACE REQUIRED | 18" (457 MM) L X 18 ½" (470 MM) W C 22" (580 MM) H |
| NET WEIGHT | 75 LBS (35.4 KG) |
| CRATED WEIGHT | 100 LBS (45.4 KG) |
| STANDARD EQUIPMENT | KNIFE BLADE SHARPENER |
OPTIONAL AND NET EXTRA EQUIPMENT
| | |
| --- | --- |
| LEFT HAND UNIT | BLADE ON LEFT SIDE OF MOTOR |
| SERRATED BLADE | IN PLACE OF STANDARD KNIFE |
| MOTORS | VOLTS | CYCLE | PHASE | AMPS |
| --- | --- | --- | --- | --- |
| ¾ HP (.5KW)-TE | 115/230 | 60 | 1 | 10.8/5.4 STANDARD |
| ¾ HP (.5KW)-TE | 115/230 | 50 | 1 | 12.0/6.0 EXTRA |
| ¾ HP (.5KW)-TE | 230/480 | 60 | 3 | 2.7/1.4 EXTRA |
| ¾ HP (.5KW)-TE | 220/380 | 60 | 3 | 2.7/1.4 EXTRA |